Welcome to Part 2 on my Christmas Home Tour.  Since I had recently repainted the walls of the family room in blush this past spring, I thought blush and gold would be the perfect color scheme for this room!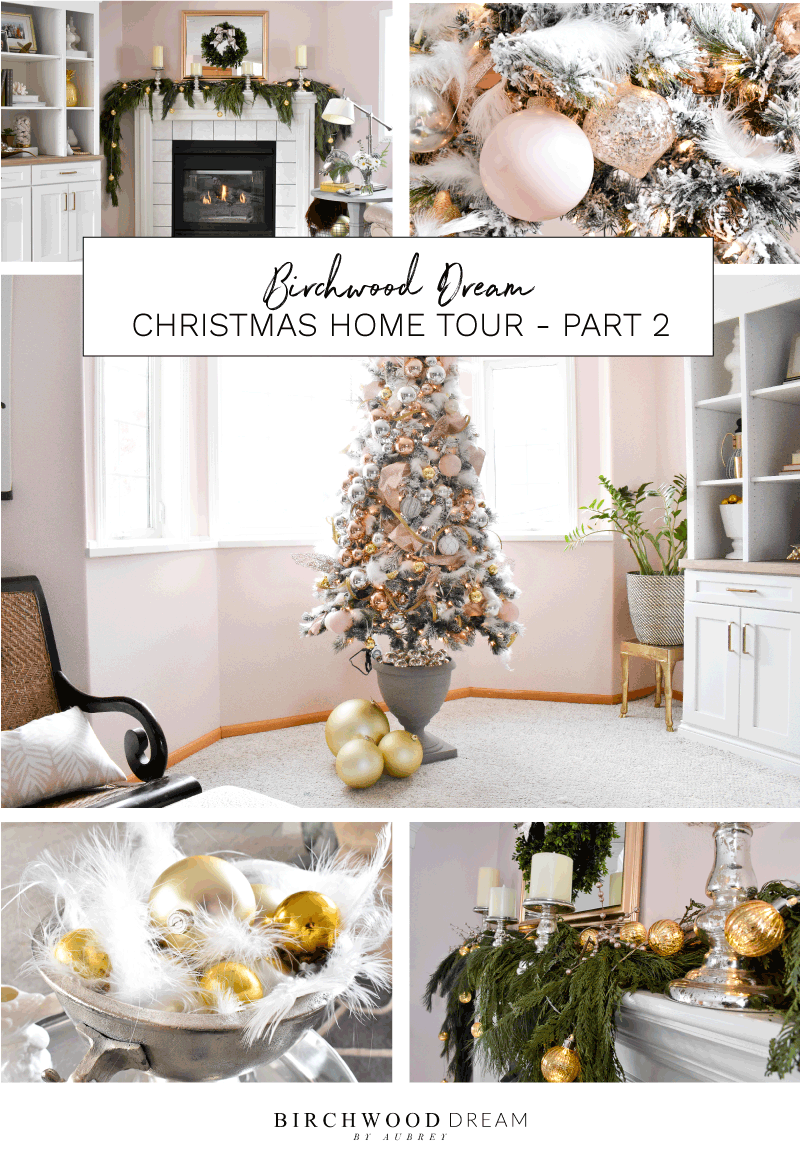 RELATED POST:  If you missed Part 1 of the Christmas Home Tour you will find it here.
I played around with fresh garland this year.  I tried a couple of techniques to keep it fresh as long as possible.  They didn't work, and it was dried out within a week and a half.  But in that week and a half, there was nothing like it, the smell, look, and texture was amazing!
All the photos are of the fresh garland after it had dried up, in my opinion, it still looked great.  Would I do it again, yes!  And will keep playing around with different techniques to keep it fresh for as long as possible.  If I figure out anything that works, I will share it with you.
FIREPLACE
For the mantel, I draped it with fresh garland.  Added a couple of mercury candleholders with flameless flickering candles, and a string of gold ornament lights.  I had made another faux boxwood wreath that I added to the mirror.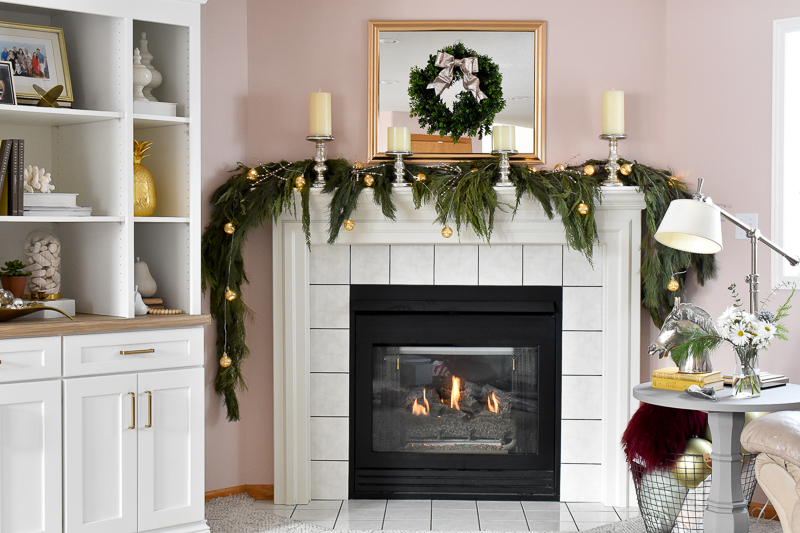 Fresh garland has the best draping effect!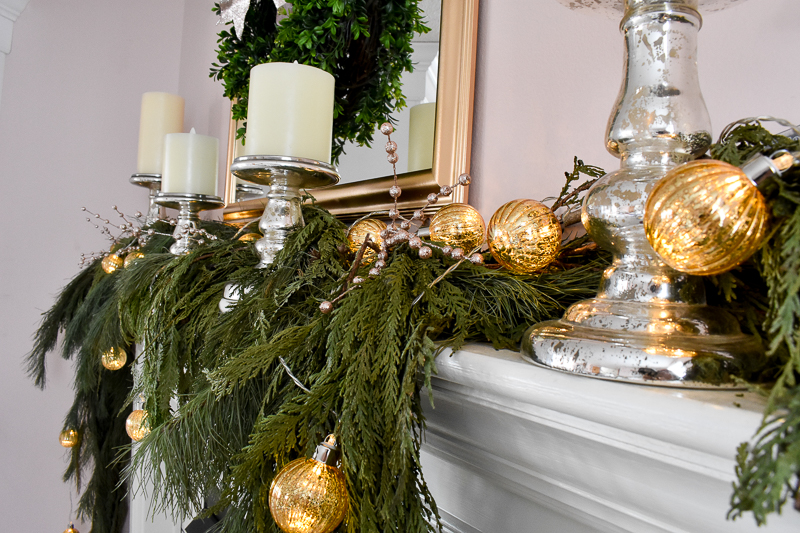 I had purchased oversized gold outdoor ornaments this year but didn't get a chance to figure out where I was going to use them outdoors.  I decided to see what I could do with them indoors instead.  I put a couple in a basket along with some extra throw pillows.
TREE
Here is the Christmas tree!  I wrapped the tree with two blush and silver ornament garlands that I found at Michael's.  Purchased a few blush ornaments at Michael's as well.  The light blush ornaments I made using the same technique I used in the Hearth & Hand Inspired Ornament Tutorial using blush spray paint instead of black.
Here are a couple of close-up photos of the tree, I LOVE the blush!
You can see in these photos that I like to add feathers to my Christmas trees.  It creates a softening effect and helps to fill in the bare spots of the tree.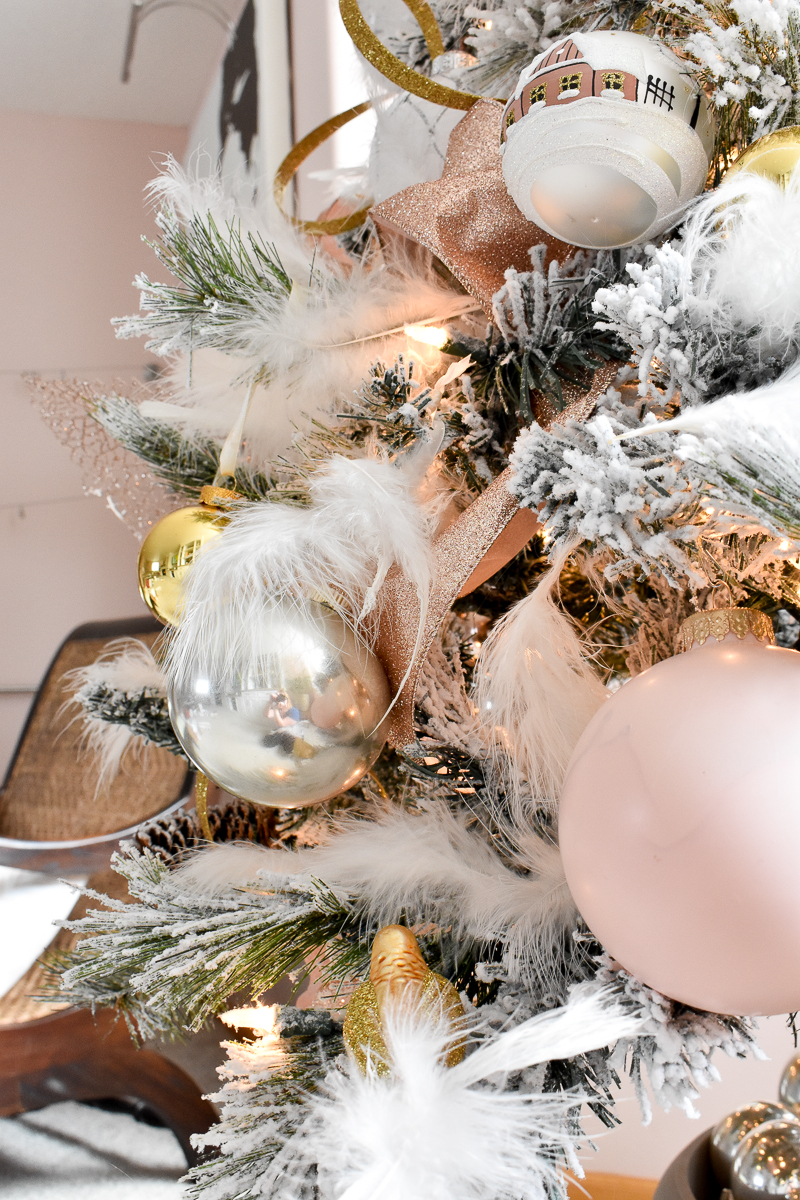 I placed a cluster of three of the oversized gold outdoor ornaments next to the tree base.  The tree base is a custom urn base that Craig made for me.  Using a plastic flower pot, PVC pipe, and concrete.
COFFEE TABLE
I continued the use of feathers by placing them inside a bowl with ornaments.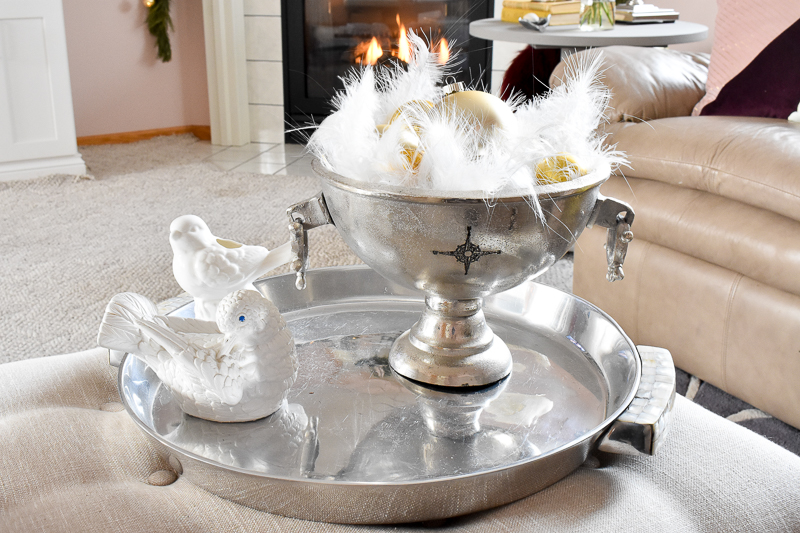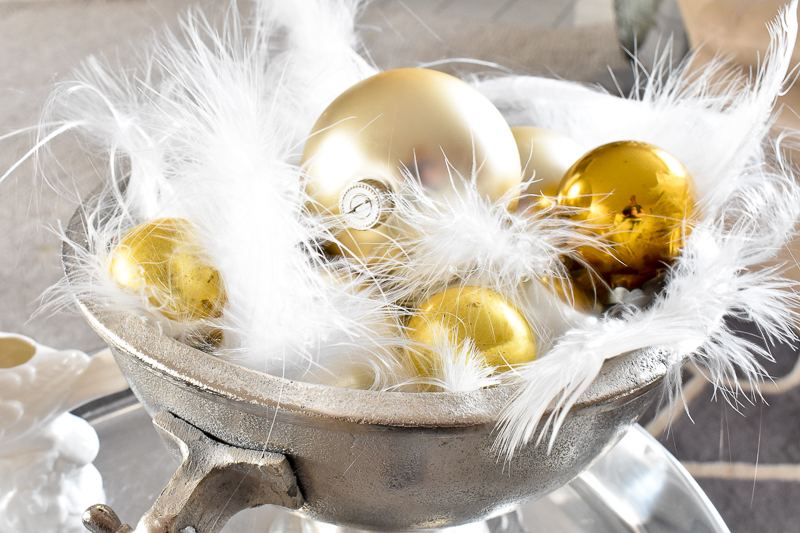 This concludes my Christmas Home Tour for this year.  What did you think?  Which was your favorite tree?