In mid-January when the weather is cold, and the house seems a little empty after the Christmas season, retail therapy is a great little pick me up.  I made the mistake of checking out what was new at Target for home decor and ended up leaving with three new trays.  Sometimes it is hard to find the perfect decorative tray for your home styling needs.  I had the opposite problem at Target; I wanted them all!  Here are some of my favorites that are currently available at Target.
Decorative trays are a must-have for high styling.  Items appear to be put together when grouped on a tray.  I even need my hand soaps to have trays underneath them.  I know I am just a little bit of a Type A ;).
This page may contain affiliate links, which means if you purchase by clicking on any of my links, I may get paid a small commission at NO extra cost to you. I only recommend brands and items that I use and trust. To learn more read my disclosure policy here.
DECORATIVE TRAYS
Gold & Marble Tray – Marble and gold is the perfect combination.  You get a high-end look with this tray without the high-end price!  Bonus for having no profile on the tray as well.
Copper Round Serving Platter – Copper trays can be hard to find.  When you do find one the price can be a little crazy, but this a good option for a copper tray at a lower price point.
Gold Hammered Tray – This is a great decorative tray.  The large tray is excellent for use on islands and ottomans.  The low profile makes this tray a real winner.  I prefer a low profile on trays.  Have you ever noticed when styling a tray that has higher edges some of your items seem to disappear, and you feel you have to build things up with books?  The side is blocking your view of your decorations.  With a lower or no profile, you don't have to worry about building up your objects you will see them all.
White/Gold Rectangular Scalloped Tray – I just love the shape of this tray.  It is fun to have a tray that isn't round or rectangular.  And I like the combination of the gold exterior and white enamel interior.  This tray will be used in my home decor rotation for years.
7″ Pink/Gold Round Brass Enamel Tray – This is a great light blush color.  The smaller size works well for hand soap and dish soap container next to your sink.  And it can also be used for a candle tray.  Yes, candles need trays too.
14″ Black/Gold Round Brass Enamel Tray – This tray comes in a variety of colors which means you will find one that works for your decor.  Black and gold is such a classic combination that doesn't go out of style.
WHITE/GOLD RECTANGULAR SCALLOPED TRAY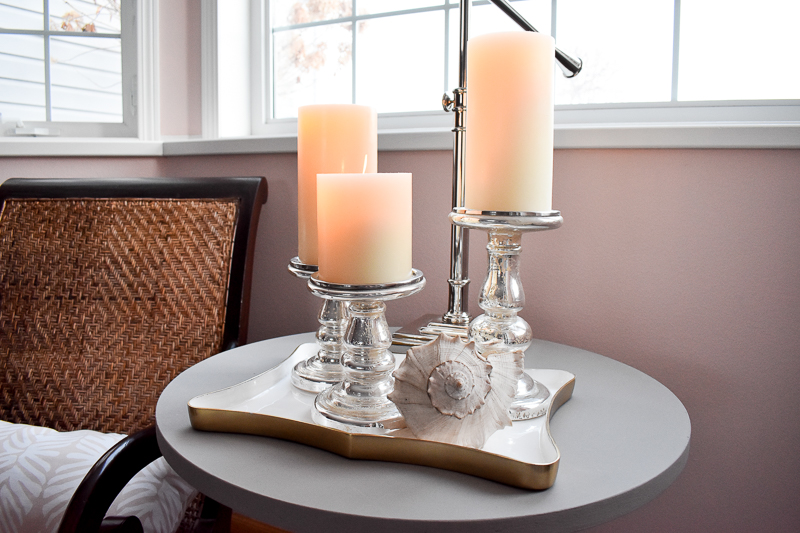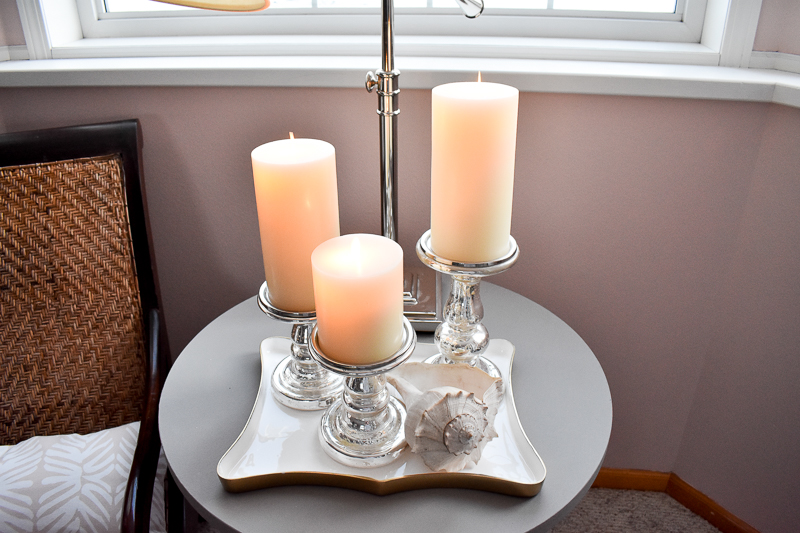 7″ PINK/GOLD ROUND BRASS ENAMEL TRAY
Go out and find a fabulous tray that will work perfectly in your home.  Happy tray hunting!