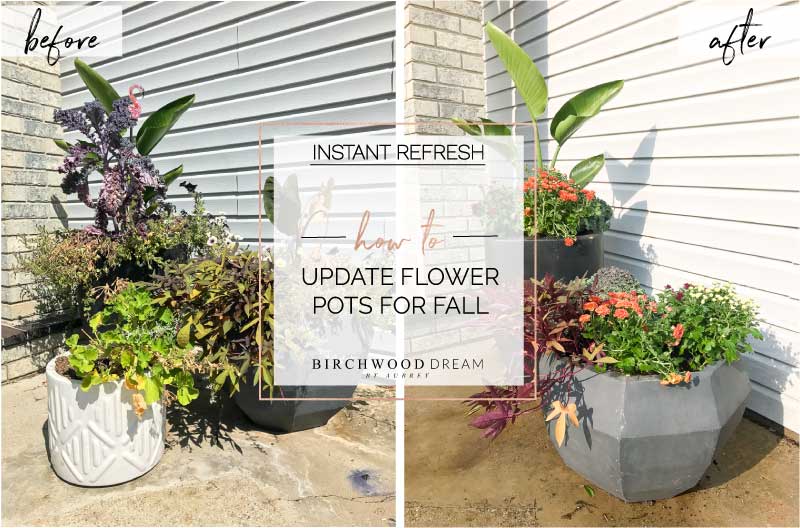 Summer is ending and the days are getting shorter.  It's time to refresh our tired and root bound flower pots and add some elements of fall with colorful mums and kale.  Who knew leafy greens could look so good in container pots.
Follow along as I turn these tired summer flower pots to fall ready blooms.
This page may contain affiliate links, which means if you make a purchase by clicking on any of my links, I may get paid a small commission at NO extra cost to you. I only recommend brands and items that I use and trust.  To learn more read my disclosure policy here.
STEP 1 | DECIDE WHAT TO SALVAGE
By the beginning of September, my flower pots are pretty much dead.  It might have helped if I watered them a little more often, oops.  I first assess the pots and see which plants are still healthy and worth salvaging.  The tall tropical plant in the black pot and the red potato vine in the dark grey pot were the plants that I decided to keep.  The rest had to go.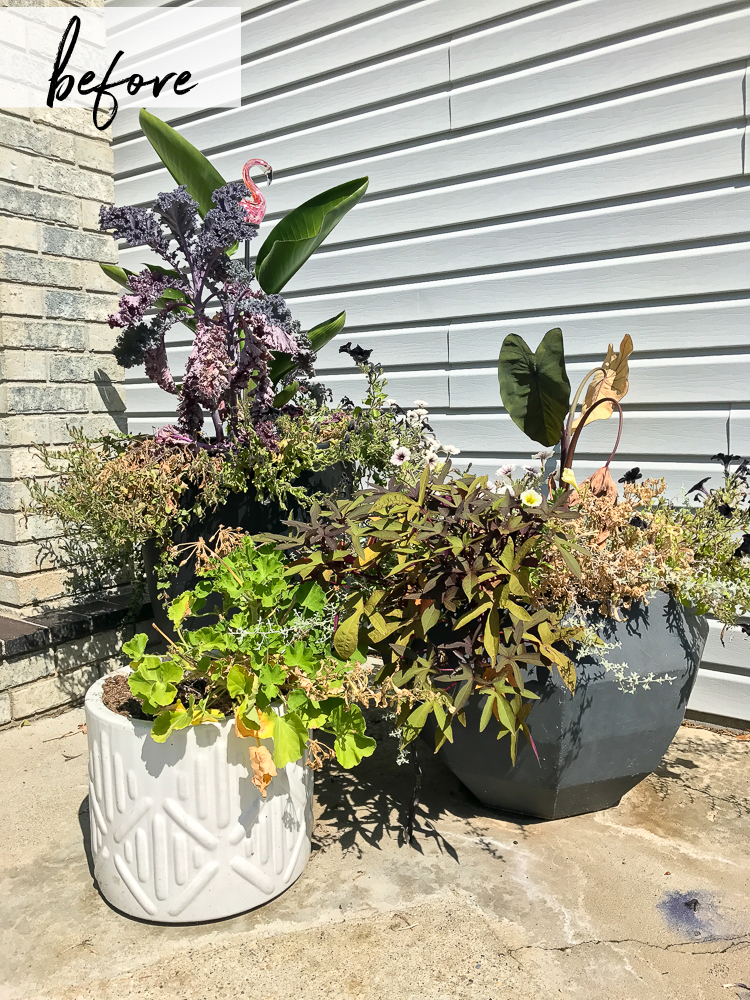 STEP 2 | DECIDE ON THE NEW COLOR SCHEME
Mums come in beautiful fall colors of white, yellow, burgundy, and rust.  You can select one color or several colors to mix together.  This year I went with a color scheme of white, burgundy and rust.  It is fun to experiment and try new color schemes from year to year.  Some years you want bright and colorful others you want more of a monochromatic look.
STEP 3 | FIGURE OUT WHAT TYPE TO PURCHASE
In cooler climate areas you want plants that are going to tolerate the cooler temperatures.  For Zones 3 & 4 mums and kale plants are great choices.  I have been liking the look of one or two leafy lettuce plants mixed in among the flowers.
I choose to add some mums and a kale plant to each pot.  Make notes of the amounts and types of fall plants you will need to fill in the holes in your flower pots.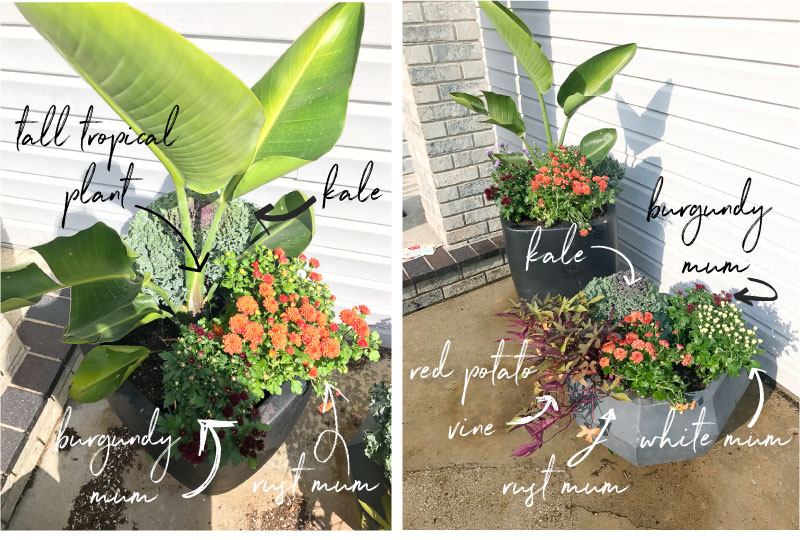 STEP 4 | ADD IN SEASONAL DECOR
Sprinkle with stacks of pumpkins, a fall wreath, and some fun fall decorations to greet your guests.  The fall transformation is complete.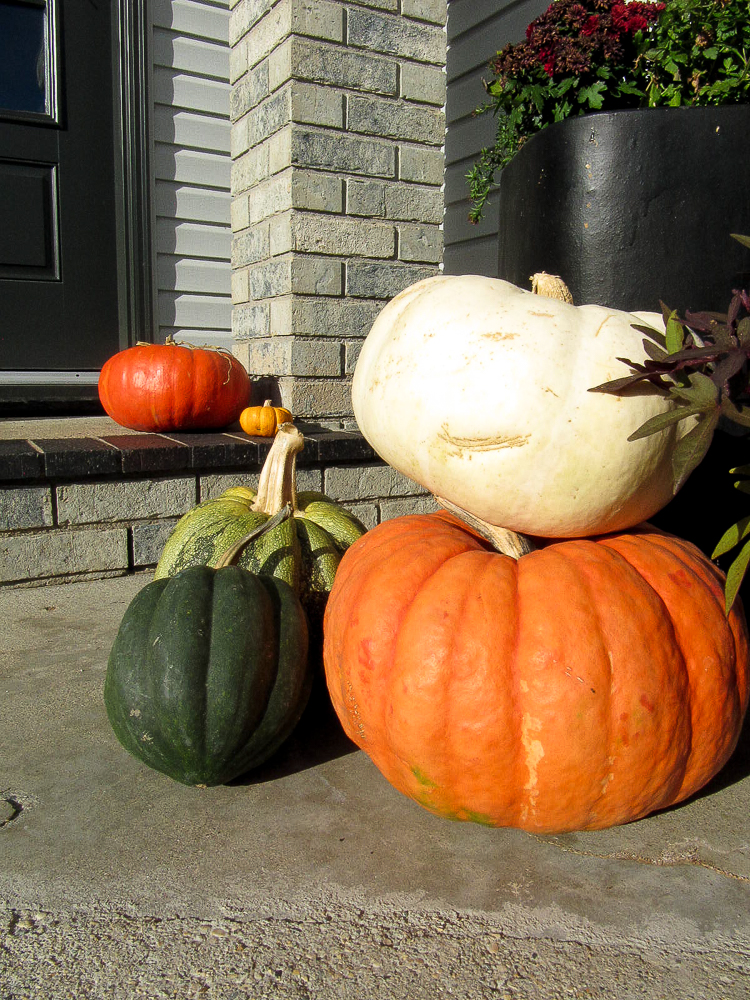 BONUS STEP | ADD FALL DECORATIONS INTO THE ENTRYWAY
I am loving our new entry into the house.  This spring we did a lot of updates to our entryway.  It started with a new front door.  What a difference a new door makes.  Especially with the 3/4 glass that faces towards the south.  It adds a lot of light inside the entryway.
Of course, a new door needs a new doormat.  I have had my eye on the Highgate Doormat from Ballard Designs for a couple of years and this was the perfect time to finally make the purchase.  The black rubber mat still looks brand new and I am very happy with it.
I also replaced the doorbell, it is a little hard to see in the photo below.  It was still the builder grade model from when the house was built.  I purchased the Moorish Doorbell Button in Brushed Nickel from Rejuvenation.  It is such a cool doorbell button, very happy with it.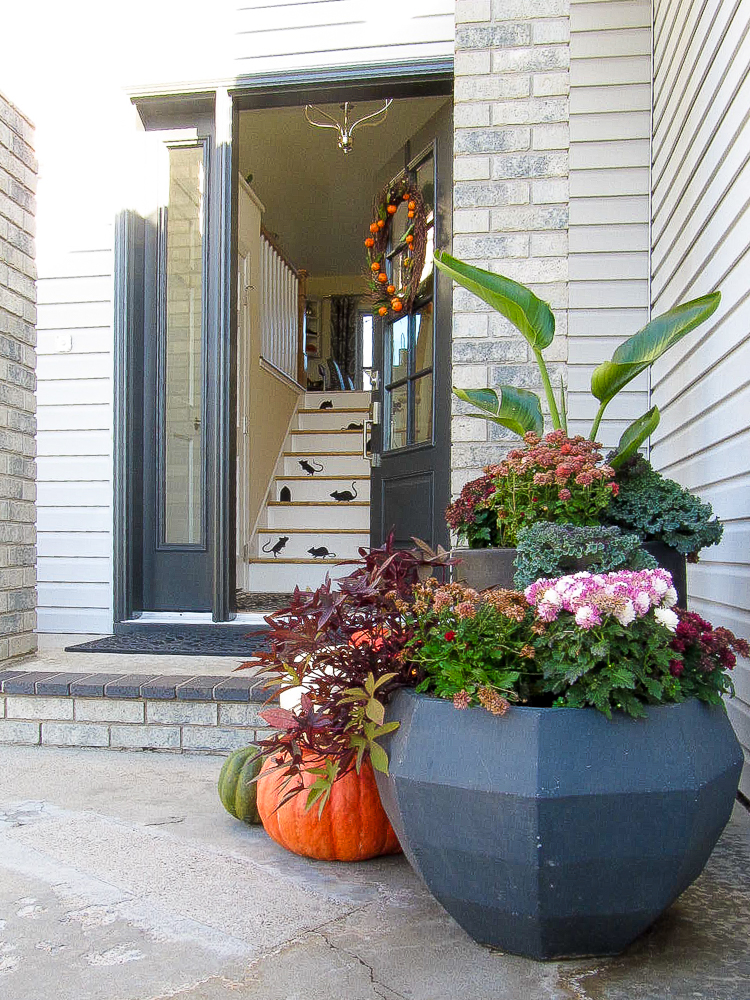 OVERSIZED HIGHGATE DOORMAT  ||  MOORISH DOORBELL BUTTON IN BRUSHED NICKEL
Watch out for the mice on the stairs!  As you enter the front door you are greeted by mice.  I really love how a couple of mice cutouts on the stairs can add a fun element of fall in the entryway.
The entryway rug is no longer available from Ballard Designs.  Here is a link to a similar design.  I really love the indoor/outdoor rugs from Ballard Designs.  I have several in my home.  They are affordable rugs and are easy to clean.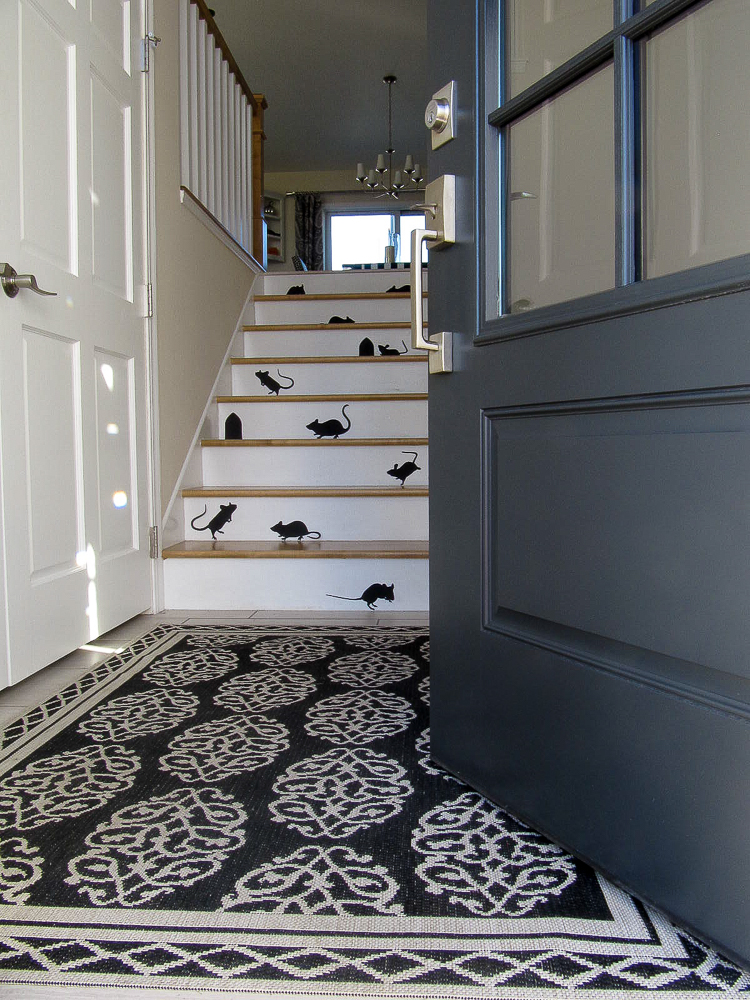 Black cardstock mice scamper across the steps.  The cutouts from Michaels by Martha Stewart are no longer available.  But here is a link to a tutorial on Martha Stewart's website on how to create similar mice cutouts of your own.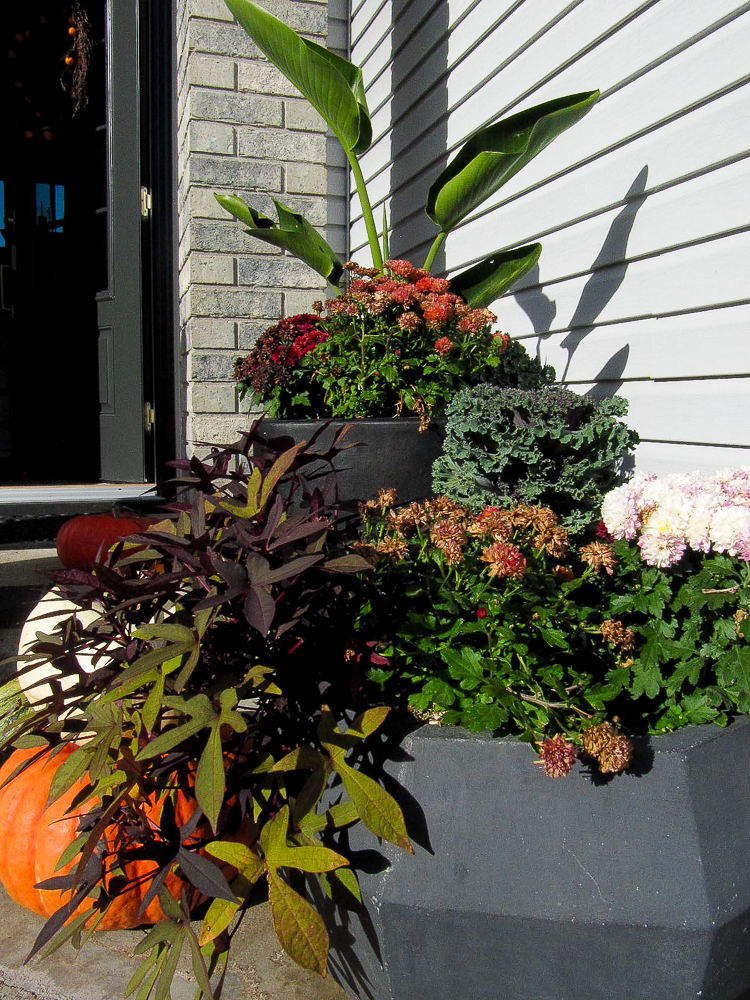 There you have it, a couple of mums and kale plants and we have added color back to our front entry.  Enjoy your updated flower pots and the changing of the seasons.
Will you update your flower pots for the fall?