The closet at the top of the stairs has seen several transformations in the 8 years that we have been in this house.  From a coat closet to now a pantry.  See the transformation journey this closet has made.
When we moved in, it had a hanging rod and shelf.  There was already a large coat closet in the entryway, and we had no real need for another coat closet.  We added deep shelves shortly after moving in to store miscellaneous items.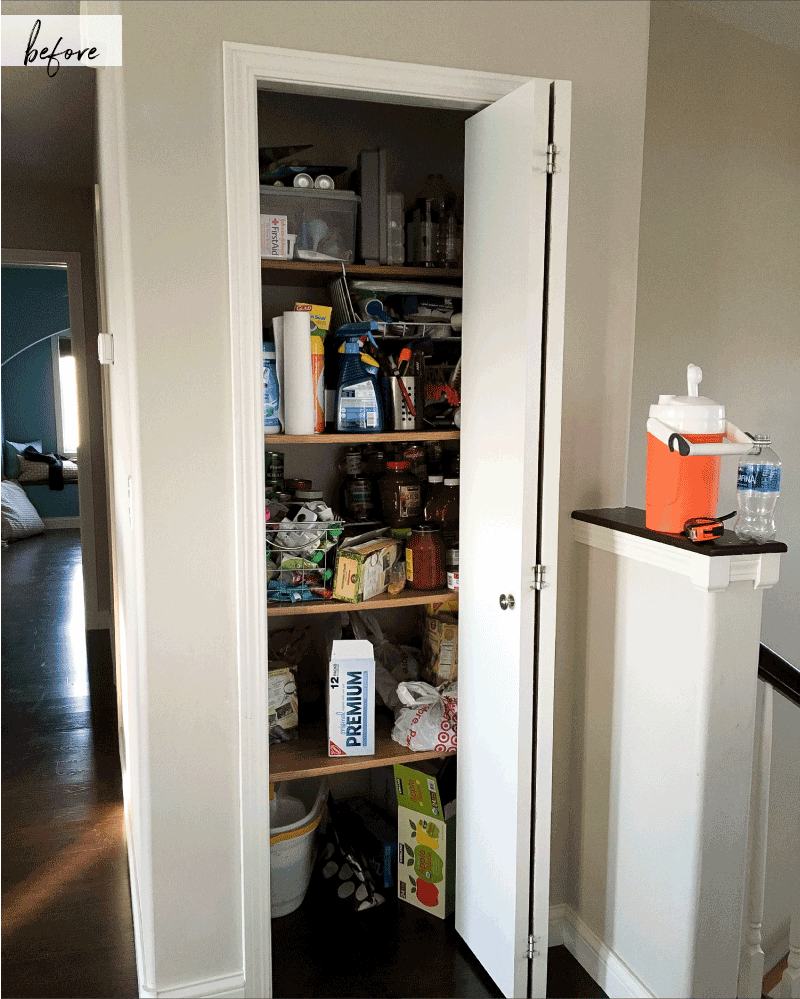 As the years passed, we lacked any real pantry storage since I only have a 9″ wide, tall pantry cabinet in the kitchen.  If anyone else has or had a 9″ pantry cabinet, you will feel my pain.  It is the most worthless cabinet in my kitchen.  We decided to move pantry items into this closet.  Not the closest thing to the kitchen, but it was a pantry.
The deep fixed shelves were hard to organize, and items kept getting lost in the back.  I wasn't thrilled with this solution and started to research other options.
The Container Store Elfa system was my first choice for quality and ease of designing.  But my budget for the project sent me to IKEA and the ALGOT closet system.  Very similar systems, but you do notice quality differences.  I am a true believer in you get what you pay for.
After a couple of years, it was time for a little cleanup.  Here is what I started with, it was still pretty organized, but it was starting to get a little junkie.
And here is the closet after the cleanup.
This page may contain affiliate links, which means if you purchase by clicking on any of my links, I may get paid a small commission at NO extra cost to you. I only recommend brands and items that I use and trust. To learn more read my disclosure policy here.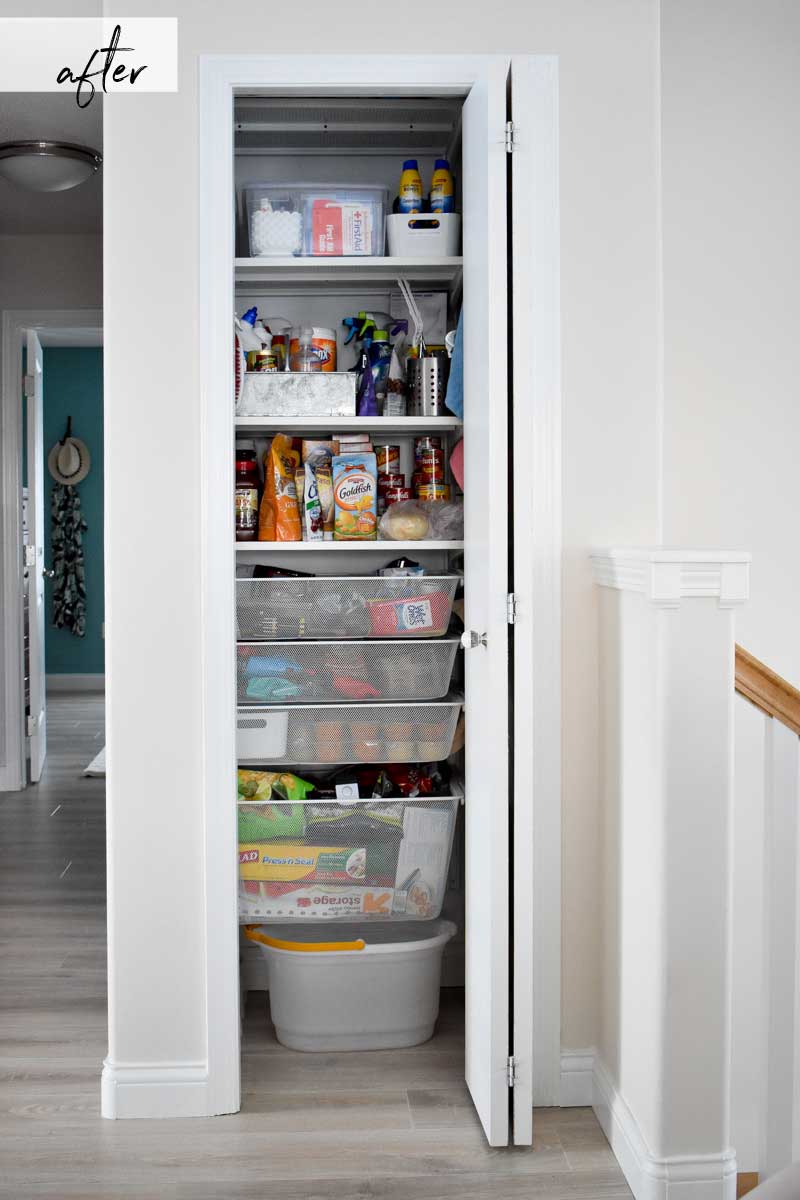 The broom and mops are stored on the side of the closet with a Handled Tool Holder from the Container Store.
TOP SHELF
This shelf is one of the places that I put most of the bulk cleaning supplies and kitchen supplies.  We do a lot of shopping at Costco, and while I love the store and prices, I struggle to find places to store the bulk items until I need them.   There is never enough storage in homes.
SECOND SHELF
This shelf holds batteries, nails & screws, first aid & medicine, and sunscreen & bug spray.
BATTERY CASE
This case is an excellent solution for storing batteries.  It is the Medium Parts Organizer from the Container Store.  It is a heavy-duty case with movable partitions.  It is easy to pull out and open when batteries are needed.
NAILS & SCREWS CASE
This bin is the same concept for nails, screws, and other miscellaneous hanging supplies.
One of these would make a great housewarming gift!  You could go out and purchase a variety of nails, drywall anchors, and screws to put inside the case.  And include a hammer, small level, and even a flat and Philips screwdriver.  When you move into a new house you can't find anything and how handy would it be to have everything you need in a kit.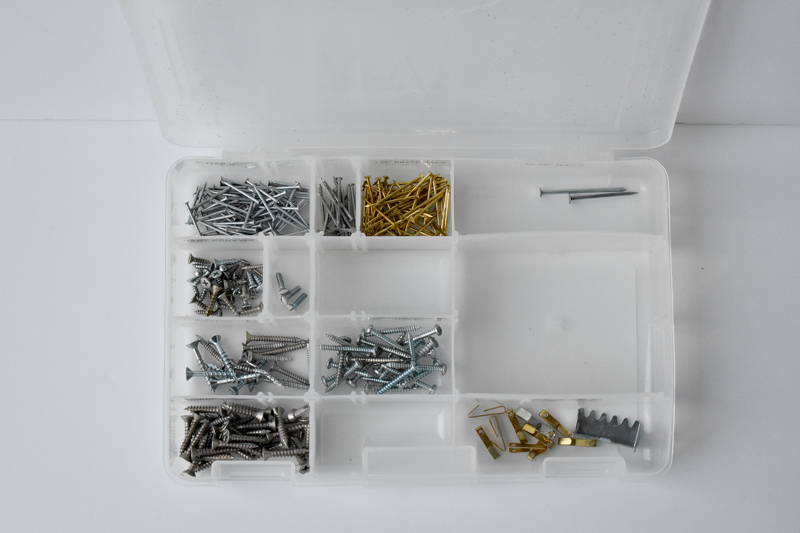 I even labeled the compartments this round of organizing.  Thanks to my new label maker!  See this post for more information about the label maker.
I am starting to go a little crazy with it.  Maybe just maybe my husband will put items where they go instead of just throwing everything into one bin.  Here's hoping!
FIRST AID SUPPLIES
First aid supplies and medicine are organized in an Our Sweater Box plastic bin from the Container Store.  Inside the box, I used a Variera bin from IKEA to hold medicine.  And used a white dish I had picked up from a thrift store and place all the loose band-aids inside along with Neosporin.  Making it easy to take care of any boo-boos.
THIRD SHELF
This shelf is my cleaning supply shelf.  I use a cleaning caddy that I found at Home Goods for my go to cleaning supplies.  I keep screwdrivers and other commonly used tools in a canister that I purchased at IKEA.  Norwex cleaning cloths hang on a row of hooks mounted to the side of a shelf.  The best method for cleaning glass.
BOTTOM SHELF
Canned goods and extra condiments are stored here.  I used a madesmart expandable pantry shelf and spice organizer to tier the cans.
TOP DRAWER
On the top drawer, I keep miscellaneous tools that I want for quick access, some cleaning supplies, and my supply of command hooks.
TWO MIDDLE DRAWERS
Two smaller drawers hold different snacks that are rotating into the house.  Extra plastic storage containers work great too for separating different snack types.  Use items you already have around the house.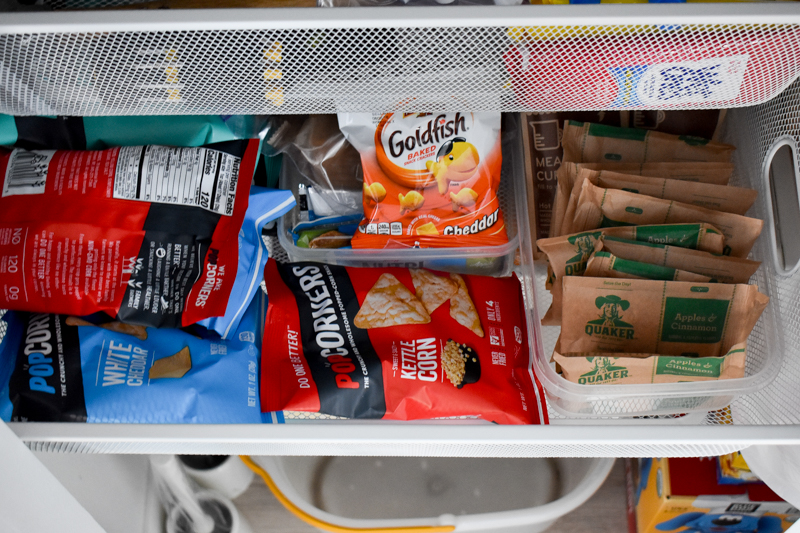 Another Variera IKEA storage bin fits nicely inside the baskets to help organize the smaller snack items.
BOTTOM DRAWER
The larger bottom drawer holds larger pantry items such as cereal boxes, chips, and crackers.
FINISHED PROJECT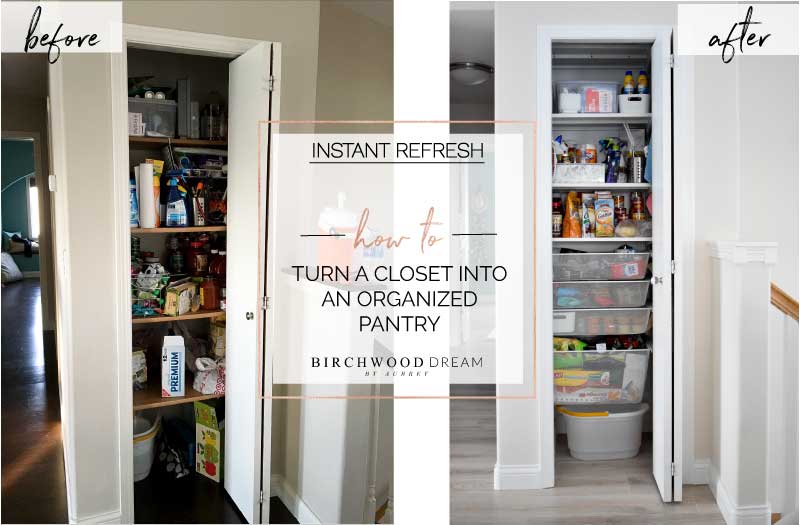 This small closet packs a lot of organizational punch; I hope you can take away an idea or two to use in your own home.