In the last several years I have become a frequent online shopper.  It is a HUGE time saver for me and a way to get unique items.  I like the convenience of having time to browse before deciding on a purchase.
With lots of packages arriving on different days, especially during the holiday season, it can be hard to keep track when items are coming to the house.  I have been using a delivery tracking app called Deliveries for over a year now.  It is available on IOS only for $3.99.
I like having all my in-transit packages in one location.  So, I know when items will be arriving.  Below is a quick tutorial on the steps that I take to add a package to the Deliveries app, so you know how simple it is.

COPY TRACKING NUMBER
When you receive an email that your online purchase has shipped, copy the delivery carrier tracking number for the package.
ADD TRACKING NUMBER TO DELIVERIES APP
Open the Deliveries app on your phone.  The app will detect that you have copied a tracking number and will give you a pop-up at the bottom of the screen.  Click the + button.  The tracking number will auto-populate if you had copied the number.
If you don't get a pop-up or are manually adding the number you, click the + symbol in the upper right corner to add the package.
NAME THE PACKAGE
Add a name for the package to help you quickly reference the package.  Click SAVE in the upper right corner.
That's it!  Your package can now be tracked through the Deliveries app.
TRACKING PACKAGES IN THE DELIVERIES APP
When you open up the Deliveries app, it gives you a screen view of all your packages.  The app lets you know in how many days your package will arrive and where it currently is located.
Also, it is color-coded by the delivery carrier.
Brown – UPS
White – USPS
Purple – FedEx
ONCE A PACKAGE IS DELIVERED
When you open the app, it will show a package as delivered.
ARCHIVE PACKAGES
Once your package has arrived swipe left, and archive will appear.  Click on archive and the package will be added to your archives.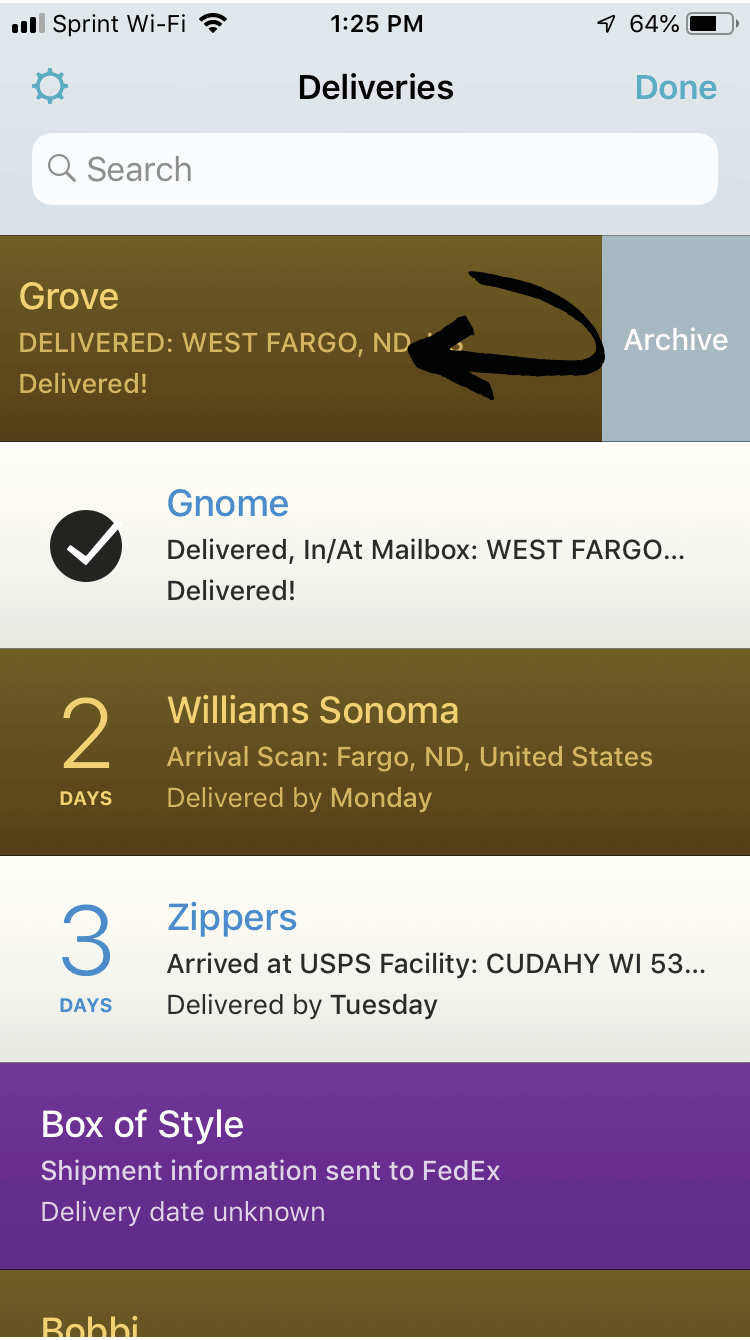 How do you keep track of your online purchases?  Share with me below in the comments.