I have found my Christmas decor inspiration for this year!  Yes, I am one of those who feels the need to change my color scheme from year to year.  I apparently can't do the same thing twice.  I believe it is a challenge for myself to be able to switch up the look from year to year with only purchasing some new ribbon and a few other supplies.
INSPIRATION
I was inspired by the pages of a recent Ballard Designs catalog.  I saw their collection for the design color trend of navy and black and knew that was it.  Catalogs are a great source of inspiration from styling ideas to color ideas.
UPSTAIRS COLOR SCHEME
Upstairs I am going with black and navy blue mixed with gold and a little silver.      Now that I have my colors figured out, when I am out and about I can keep my eyes open for items that will work in my scheme.
I already own black ornaments and black and white ribbon.  I need to gather some navy ornaments, haven't seen any in years past, probably will be a DIY project.  Ideally, I would like navy blue velvet ribbon but will settle for any pretty navy blue ribbon.  And I need navy blue fabrics for pillows; again ideally I want navy velvet.  I know I have spied navy velvet from JoAnn's, will need to verify in store if it is the color that I am after.  H&M Home also has navy pillow covers this year.
MOOD BOARD
Here is my mood board for upstairs!  I am planning on putting the flocked tree upstairs this year, so the black and navy ornaments pop against the white.  What do you think?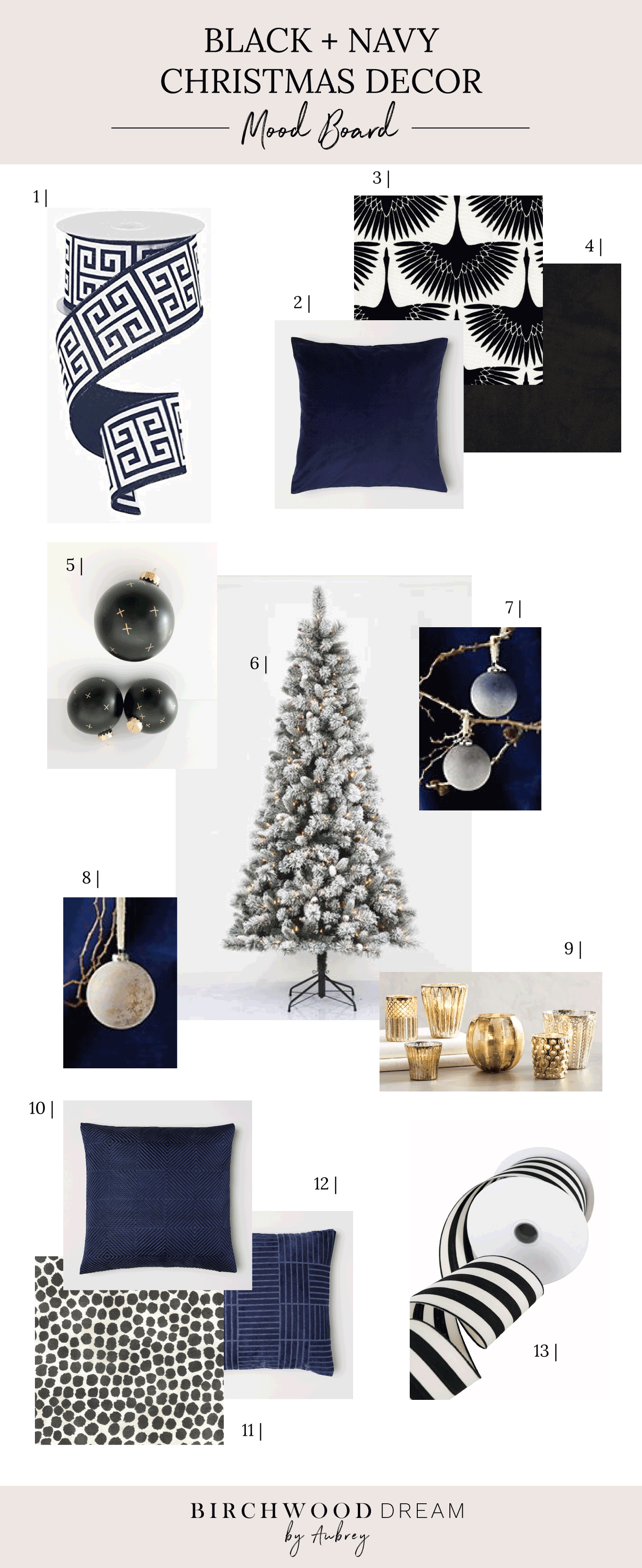 SOURCES
1 | Greek Keys Wire Edge Ribbon in Navy Blue
2 | Cotton Velvet Cushion Cover in Dark Blue
3 | Genevieve Gorder Fabric in Onyx Flock
5 | Hearth & Hand Inspired Ornament Tutorial
6 | 7.5′ Prelit Colorado Artifical Christmas Tree
7 | Beaded Ombre Globe Ornament 
8 | Gold Flecked Glass Globe Ornament
9 | Antiqued Mercury Votive Holders in Gold
10 | Jacquard-Weave Cushion Cover in Dark Blue
11 | Genevieve Gorder Puffy Dotty Fabric in Onyx
12 | Patterned Cushion Cover in Dark Blue
13 | Striped Ribbon in Black and Cream
Do you know what colors you are decorating with this Christmas?  Do you like this color combination for Christmas decor?