I was at a customer's house and saw that she had a dedicated upper cabinet in her kitchen for paperwork and office supplies.  At first, I thought that's weird and what a waste of precious kitchen storage.  But the more I thought about it, the more I thought it was a brilliant idea.
Think about it, where does the mail go when it comes into the house?  The kitchen.  Where does all the paperwork from the kid's book bags go?  The kitchen.  Where are you more likely to sit down and write a thank you note or birthday card?  The kitchen.  Where do the kids do their homework?  The kitchen.  I could go on and on with examples, but you get the picture.
 And if we don't make it easy for ourselves it just won't happen.  I am as guilty as the next person.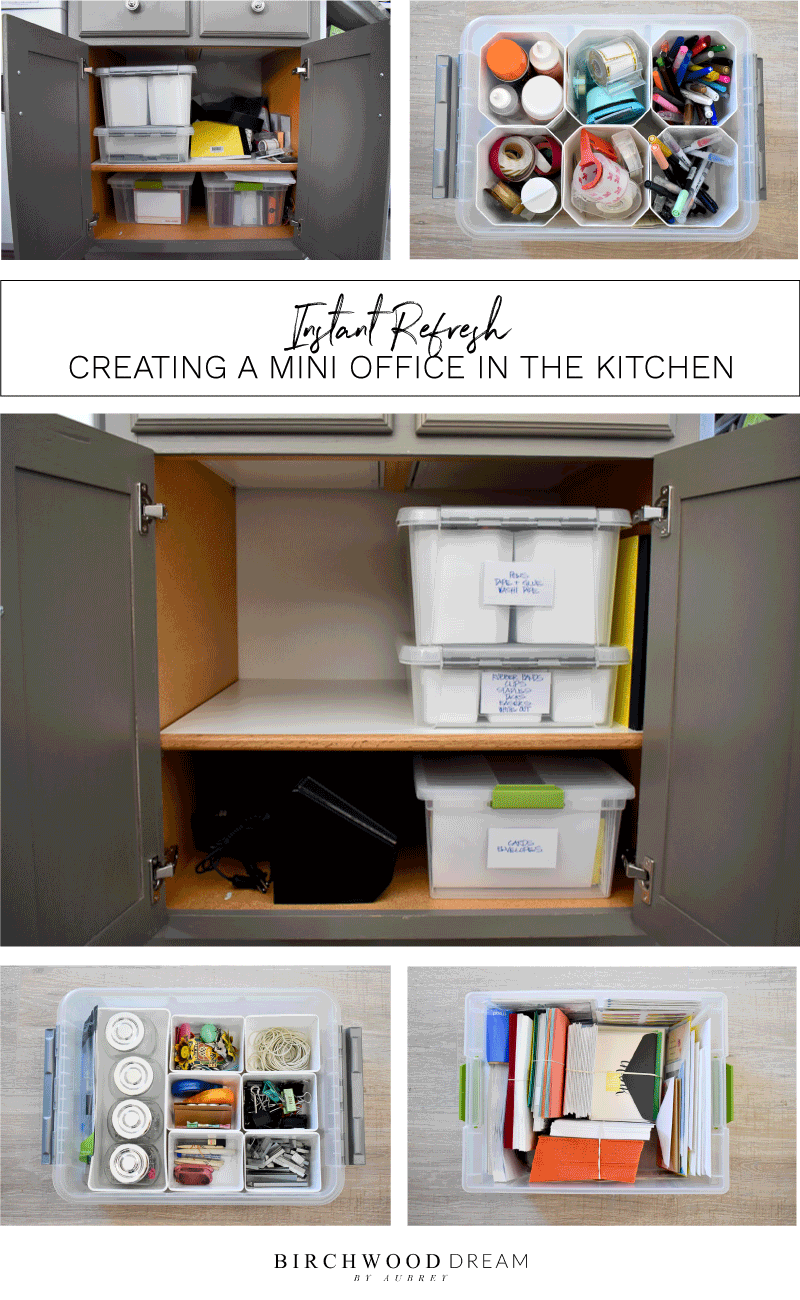 In kitchen design, we are removing all the built-in desks in kitchens because no one was sitting at the desk to pay bills and the valuable real estate became a junk collector.  Now we realize that though we don't need an actual desk, we are using the island or dining table, we do need a designated area for a mini office.
We are now calling them drop zones in kitchen design.  A place to hold all or any of the following…
office supplies
paperwork
bills
binders for printables
to charge electronic devices
purse
paper shredder
laptop
scanner
printer
We need these daily items in the space where we live, the kitchen.
Now I would love to gut my kitchen and create a custom drop zone that fits my exact needs, but that is not in the cards.  I need to make it work with what I currently have.  I took a look at my kitchen and thought is there a cabinet that I could steal to utilize this idea.  I found an ideal location in one of my base cabinets.  Then I relocated or purged the existing kitchen items housed in this cabinet.
As you are creating a new organization system, it takes a little trial and error to figure out what will work best for you.  What works for me may or may not work for you.  And the items that everyone needs in their drop zone may be different.
BEFORE
My mini office was in need of a purge and refresh.
AFTER
I started by taking everything out of the cabinet and purged what I wasn't using.  I want to incorporate supplies needed for going paperless into this cabinet as well.  A home for a paper shredder and scanner.  Ideally, I want an outlet inside this cabinet so these items can be plugged in and used without the need to pull them out of the cabinet.
I labeled the bins with self-adhesive label holders from Smart Store also found at the Container Store.
DETAILS – TOTE 1
The Container Store has these totes that have optional internal inserts that make them great for many different organizing needs.  I found them to workly perfectly for my office supplies.  I used the Medium Smart Store Tote with Tall Smart Store Insert in White to store pens, tape, adhesives, and washi tapes.  I pull the entire container out and grab what I need.
DETAILS – TOTE 2
I used a Small Smart Store Tote with a Medium Smart Store Insert, and Small Smart Store Inserts in White to store rubber bands, binder clips, staples, white-out, and easers.
PRO TIP:  Think outside the box when looking at organizing supplies.  I used spice jars from IKEA to store smaller items such as paper clips, push pins, and tacks.
DETAILS – TOTE 3
I condensed two bins of cards and envelopes into one.  In this bin is where I keep thank you cards, miscellaneous cards, address labels, and envelopes.
PHASE 1 COMPLETE
Once I get an electrician to add an outlet, I will give you an update with Phase 2 of my mini office refresh.

Do you have a cabinet in your kitchen that you could spare to create a mini office?