Sangria is one of those fun beverages that looks complicated but is easy to make.  One of the things I like best about sangria is that you can make it the night before an event.  I always go for recipes that I can make ahead of time, less stress on the day of hosting.
This Lemon Citrus Sangria is light and fruity making it perfect for spring holidays, bridal showers, or summertime fun.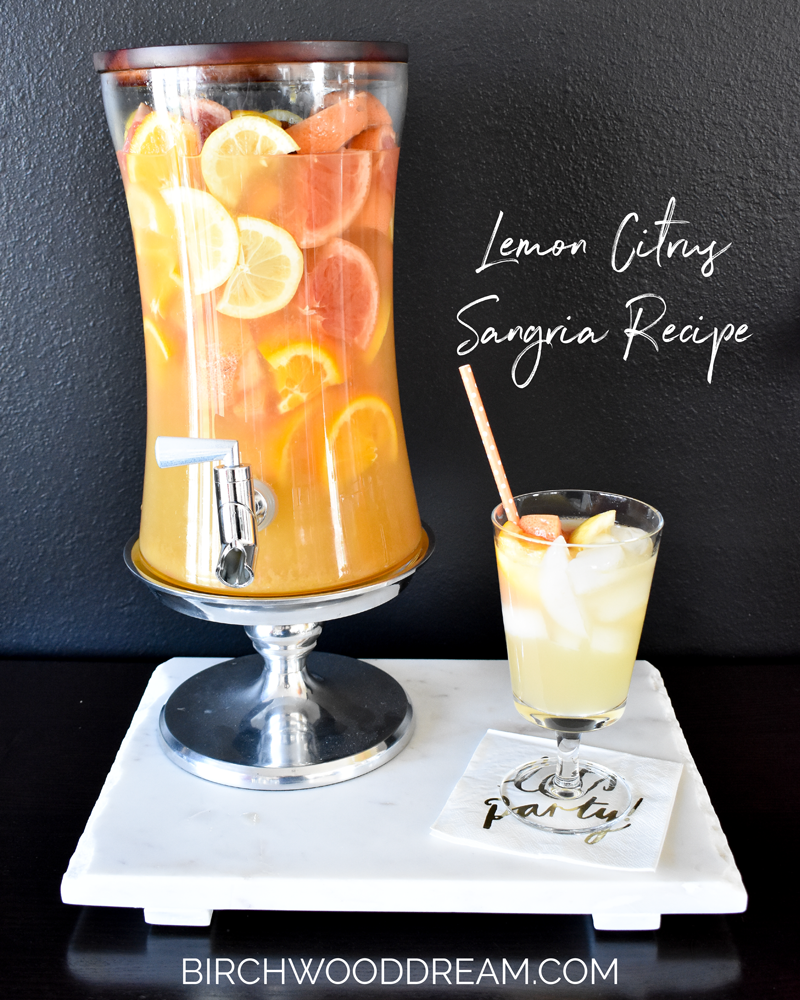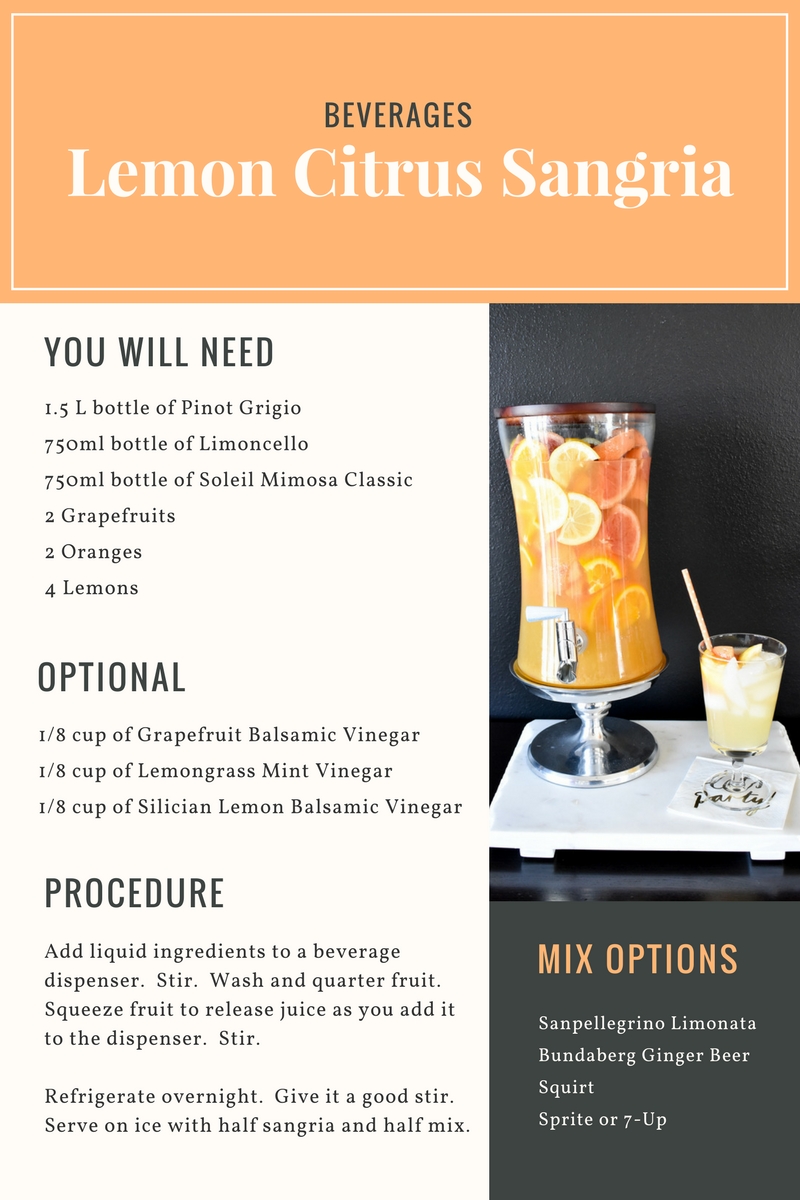 This page may contain affiliate links, which means if you purchase by clicking on any of my links, I may get paid a small commission at NO extra cost to you. I only recommend brands and items that I use and trust. To learn more read my disclosure policy here.
GATHER THE INGREDIENTS
Gather the following ingredients.
1.5 L bottle of Pinot Grigio white wine
750 ml bottle of Limoncello
750 ml bottle of Soleil Mimosa Classic
2 Grapefruits – quartered and sliced
2 Oranges – quartered and sliced
4 Lemons – quartered and sliced
OPTIONAL:
1/8 cup of Grapefruit White Balsamic Vinegar
1/8 cup of Lemongrass Mint Balsamic Vinegar
1/8 cup of Silician Lemon Balsamic Vinegar
MIX:
Pick one or a couple of the following to mix with the sangria.
Sanpellegrino Limonata
Bundaberg Ginger Beer
Squirt
Sprite or 7-Up
Lemon Flavored Sparkling Water
ADD PINOT GRIGIO
Add a 1.5 Liter bottle or two 750 ml bottles of pinot grigio wine to your container.
TIP:  Make sure the spout is closed.  It helps to add a small bowl underneath just in case.
ADD LIMONCELLO
Add a 750 ml bottle of Limoncello liqueur.  You will find Limoncello in the liqueur section of the liquor store.
ADD MIMOSA
Add a 750 ml bottle of Soliel Mimosa Classic.
OPTIONAL STEP:  ADD BALSAMIC VINEGAR
Added flavored white balsamic vinegar is an optional step, but fruit flavored balsamic vinegar bring great additional flavors to the sangria.  I added 1/8 to 1/4 cup each of the following balsamic vinegar; grapefruit, silician lemon, lemongrass and mint.
STIR SANGRIA
Give the sangria a good stir.
WASH THE FRUIT
Washing the fruit is an important step, do not skip.  The skin of the fruit will be soaking in the sangria overnight.  You want to make sure it is clean.  Wash the four lemons, two grapefruits, and two oranges with a fruit and vegetable wash.
CUT FRUIT
Cut fridge into wedge slices.
ADD FRUIT TO PITCHER
Squeeze fruit to release the juice as you add it to the sangria.
STIR AND REFRIGERATOR OVERNIGHT
Give your sangria a good stir and place in the refrigerator overnight.
SET UP THE SERVING STATION
It is always fun to set up a pretty drink station to match the beautiful sangria.  I used a hammered gold tray from Target to put a bucket of ice, glasses, and mixes.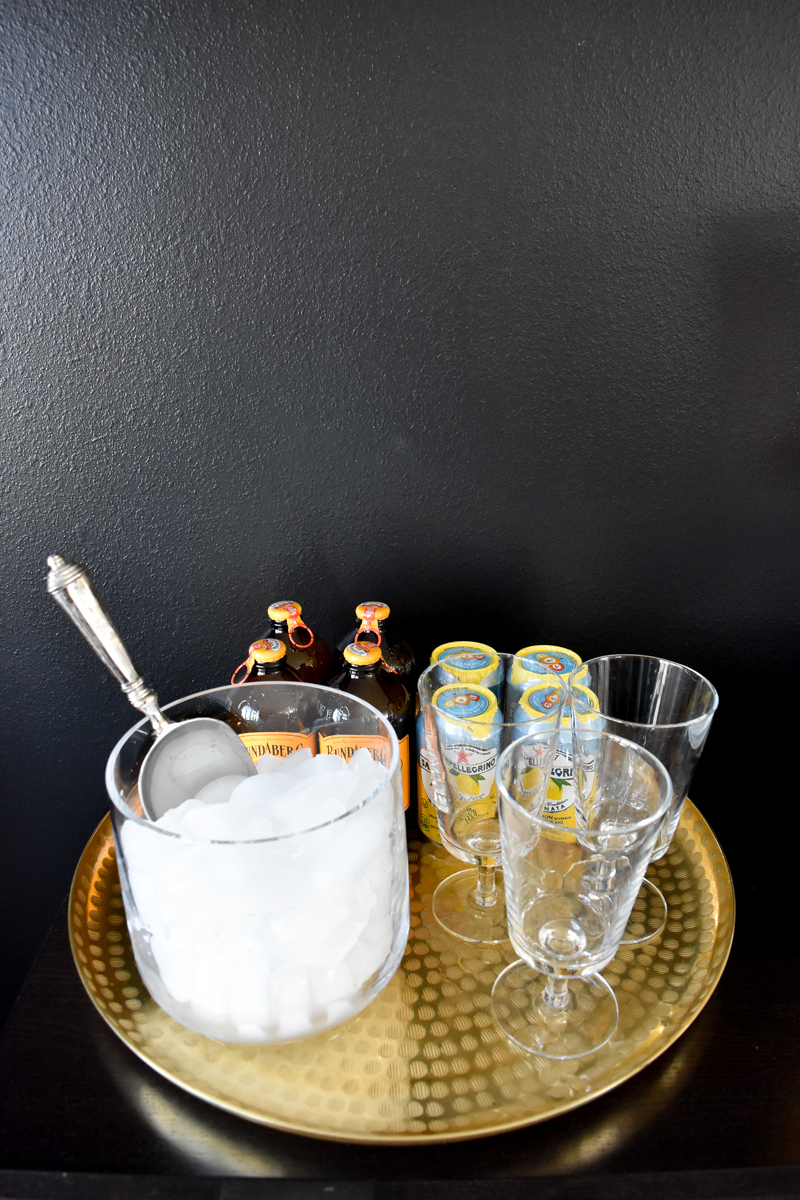 Sangria, cocktail napkins, and straws are on a marble platter.
COMPLETED DRINK STATION
Here is the completed sangria station.
MIX AND ENJOY
To create a sangria drink, add ice to a glass, pour in half to three-quarters of the sangria mix, fill with the mix of your choice, and top with a couple of pieces of the fruit.  My favorite is a combination of the ginger beer and limonata.  Stir and enjoy!